Product thermal capacity: 2 – 20 t/h    
Working pressure:  1.0 - 2.5 MPA    
Outlet temperature: 170 - 225℃    
Available fuel:  Bituminous coal,lean coal,anthracite    
Available industries:    Heating, chemical, food, tobacco, textile, printing and dyeing, feed, medicine, building material, wine, rubber, hospital    
DZL coal-fired boiler has a wide range of fuel applicability, equipped with advanced automatic control system, convenient and fast operation and maintenance, reliable and durable, and guarantee the long-term stable operation of the boiler. ZOZEN DZL coal-fired boiler adopts a unique design and production process, and its thermal efficiency is 5% higher than that of conventional products.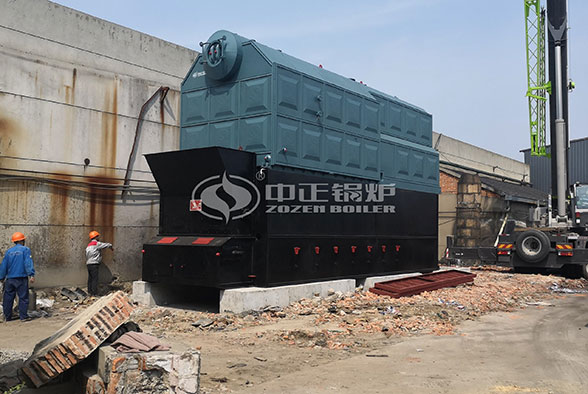 Technical advantages
Wide fuel adaptability
Applicable to a wide range of fuels including bituminous coal, lean coal, anthracite, etc.
Customized solutions save money and time
Save your money and time with custom designed and engineered feeding system, slag discharge system, flue gas treatment system and boiler house layout plans.
Higher thermal efficiency
Thermal efficiency at least 5% higher than normal systems, annual fuel cost savings for each 10 tph boiler as high as $75,000.
High level of automation
Easy maintenance,  high level of automation that requires less in volvement of operational and maintenance personnel.
Advanced control system
Ensure stable operation while saving investment cost for you with a reasonable selection.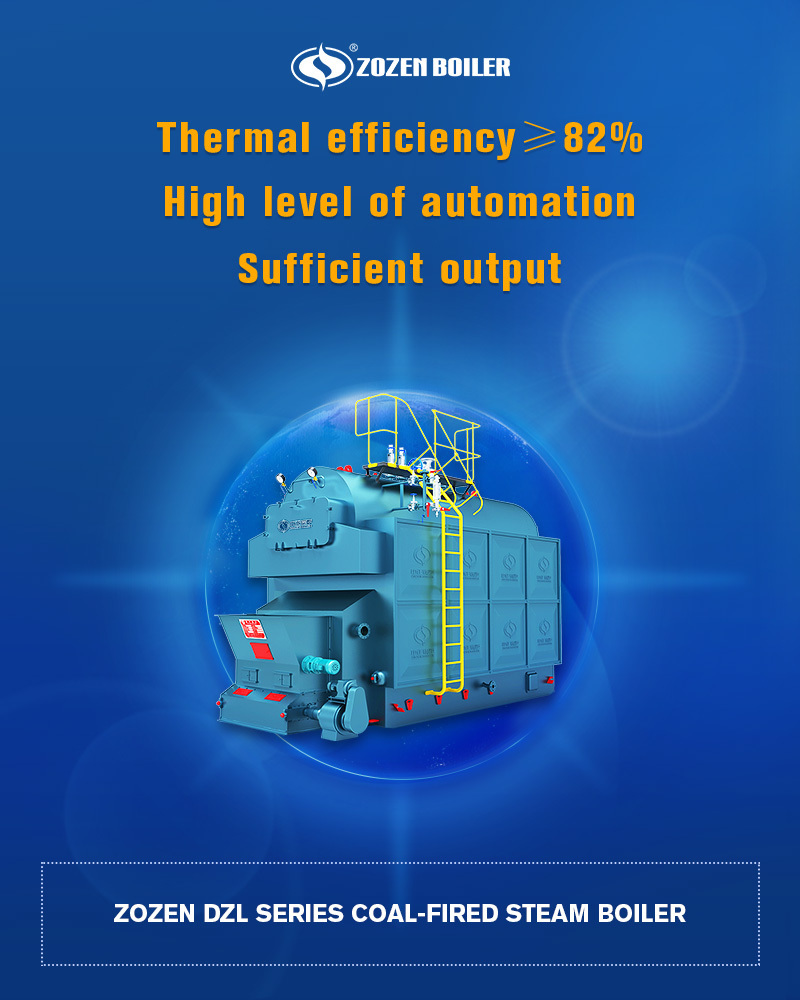 Product Parameters
Model
Rated evaporation
Rated working pressure(MPa)
Rated steam temperature
Thermal efficiency(%)
Maximum transport size(m)
(L×W×H)
DZL2-1.0-AⅡ
2
1.0
184
79
5.7×2.5×3.5
DZL2-1.25-AⅡ
2
1.25
194
79
5.7×2.5×3.5
DZL2-1.57-AⅡ
2
1.57
204
79
5.7×2.5×3.5
DZL2-2.45-AⅡ
2
2.45
225
79
5.7×2.5×3.5
DZL4-1.25-AⅡ
4
1.25
194
79
6.3×2.6×3.6
DZL4-1.57-AⅡ
4
1.57
204
79
6.3×2.6×3.6
DZL4-2.45-AⅡ
4
2.45
225
79
6.3×2.6×3.6
DZL6-1.25-AⅡ
6
1.25
194
79
7.3×3.2×3.6
DZL6-1.60-AⅡ
6
1.6
205
79
7.3×3.2×3.6
DZL10-1.25-All
10
1.25
194
79
7.2×3.3×3.6
DZL10-1.60-All
10
1.6
205
79
7.2×3.3×3.6
DZL15-1.25-All
15
1.25
194
79
8.8×3.7×3.7
DZL15-1.60-All
15
1.6
205
79
8.8×3.7×3.7
DZL20-1.25-All
20
1.25
194
79
9.7×3.4×3.7
DZL20-1.60-All
20
1.6
205
79
9.7×3.4×3.7
Workshop