Product thermal capacity: 7000-29000 KW    
Working pressure: 0.8-1.0 MPA    
Outlet temperature: 320 °C    
Available fuel: natural gas, coke oven gas, bio-gas,liquefied petroleum gas, diesel, heavy oil, light oil, crude oil    
Available industries: Petroleum, chemical, chemical fiber, pharmaceutical, textile printing and dyeing, building materials, wood processing, vegetable oil processing and other industries    
YQL vertical gas-fired thermal fluid heater uses fuel or gas as fuel, uses burner to burn fuel, uses heat transfer oil as heat carrier, uses circulating oil pump to force liquid phase circulation, and transfers heat energy to heat equipment, and then returns the current formula of reheated special industrial furnace. YQL series gas-fired thermal oil boilers have a three-pass round coil structure. A conical coil is used for the effective protection of the furnace wall at the boiler end. This product is equipped with an advanced combustion device and is fully automated in operation. After the burner ignites the fuel, flame fills the round coil tubes and transfers heat by radiation through the tube wall (first pass). The high temperature flue gas gathers at the back door and then turns to the convection tubes section (second pass), where heat transfer takes place by convection. The flue gas gradually cools down here and flows to the front door, where it is reversed and goes into the third pass. After that, it enters into the chimney through the economizer and is released into the atmosphere.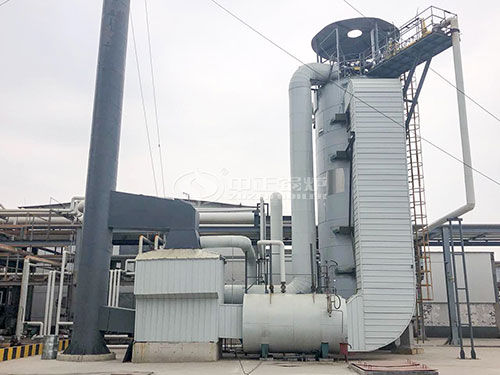 Technical advantages
Digitized manufacture
The laying-off of steel tube adopts CNC 3D laser cutting machine.
The manufacture of square coil tube adopts CNC three-dimensional tube bending machine, no forced shaping.
The manufacture of serpentuator adopts serpentuator automatic production line, once-forming.
Full argon arc welding
Square coil tube and coil tube all adopt argon arc welding technique,which guarantees tubes are 100% qualified.
Long life span
The optimized radiation heating surface and convective heating surface, the medium flow is more reasonable, without overheat of the carrier and reduce the life;
Convection section: optimize convection heating surface and adopt effective fix and structural support to make its working life longer.
Set up effective flue gas partition for convection heating surface and cast partition to make it works longer.
Easy operation
We have combustion arch patent, which is available for different types of coals, even the anthracite is very easy to burn.
Flame-proof feeding bucket can avoid the feeding bucket is burnt and coking.
There is ash cleaning unit, which is easy for maintaining, operating and cleaning.
Less fuel consumption
Use superior refractory brick to build inside and superior perlite in the middle. Keep the furnace temperature under 50℃ to make  the minimization of loss.
Furnace adopts double close line coil, which makes heating surface sufficient.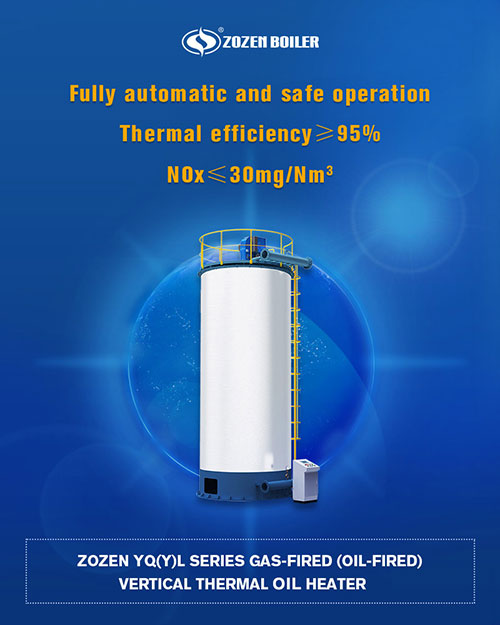 Product Parameters
Model
Rated thermal power(KW)
Rated thermal power(x10 4kcal/h)
Design working temperature(≤℃)
Rated working pressure(MPa)
Thermal efficiency(≥%)
System installation power(KW)
Maximum transport size(m)
(L×W×H)
YQL-7000Q
7000
600
320
0.8
95
140
8.0×3.6×4.0
YQL-8200Q
8200
700
320
0.8
95
140
8.5×3.7×4.0
YQL-9400Q
9400
800
320
1
95
200
9.5×3.8×4.0
YQL-10500Q
10500
900
320
1
95
200
10.5×3.8×4.0
YQL-12000Q
12000
1000
320
1
95
240
12.4×3.8×4.0
YQL-14000Q
14000
1200
320
1
95
320
13.5.×4.0×4.2
YQL-16500Q
16500
1400
320
1
95
380
customized size
YQL-18000Q
18000
1600
320
1
95
450
customized size
YQL-21000Q
21000
1800
320
1
95
520
customized size
YQL-23300Q
23300
2000
320
1
95
600
customized size
YQL-26000Q
26000
2200
320
1
95
700
customized size
YQL-29200Q
29200
2500
320
1
95
825
customized size
Workshop