As a leading enterprise in Xinjiang's tomato industry, Oriental Red Tomato Co., Ltd. attaches great importance to the selection of boilers. After detailed market research and product comparisons, they unanimously chose the SZS series gas steam boilers. In the recently concluded harvest season, this boilers delivered remarkable performance, earning high recognition from customers and establishing itself as a crucial partner in expanding production and increasing yields.
In the rapid development of Xinjiang, boilers play a vital role in providing energy support for its economic growth. Whether in the food and chemical industries, hospitals, schools, industrial parks, or construction corps' central heating, boiler equipment is indispensable. ZOZEN Boiler has earned numerous accolades from users in the Xinjiang region, thanks to its high-quality products and excellent services.
As a critical piece of equipment in the tomato industry, boilers play a key role in processes such as cleaning, disinfection, heating, and concentration. Facing the challenges of 24/7 operation and high instantaneous gas consumption, ZOZEN Boiler offers the SZS series gas steam boilers, which exceed standard configurations based on its rich experience and expertise. These boilers not only maintain stable performance but also meet the requirements of tomato sauce production, ensuring the continuous operation of production lines, even during the intense two-month tomato harvest season.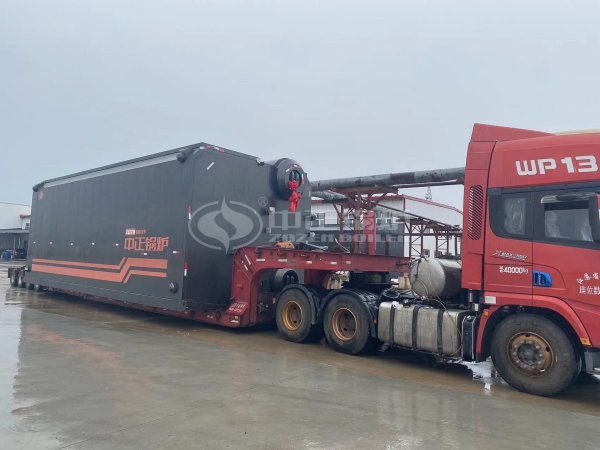 ZOZEN SZS series gas steam boiler
The SZS series gas steam boilers adopt a full membrane water-cooled wall and a large furnace design, combined with an energy-saving economizer that reduces exhaust losses. This configuration allows the boilers to achieve a system thermal efficiency exceeding 98%. They can provide stable high-temperature steam to meet the demands of 24/7 operation, which means continuous heating and cooking of tomato paste, ensuring consistent product quality and taste.
ZOZEN gas steam boilers are equipped with appropriately sized steam drums and steam-water separators, minimizing carryover of water with the steam and ensuring high-quality steam. This is crucial for processes such as sterilizing bottled and canned tomato sauce, as well as cleaning and disinfecting equipment, guaranteeing the hygiene and quality of the tomato sauce.
Furthermore, the SZS series boilers utilize low-nitrogen burners and advanced low-nitrogen combustion technology. They automatically adjust the air-fuel ratio to maintain optimal combustion, achieving low NOx emissions controlled at ≤30mg/Nm³. The environmentally friendly and energy-saving features make them the reliable choice for new production lines, meeting both production requirements and the environmental protection standards in Xinjiang.
In addition to exceptional product performance, ZOZEN Boiler has gained widespread acclaim in the tomato industry for its professional after-sales service. Gas steam boilers may encounter various issues during operation, and ZOZEN Boiler's ability to respond quickly and efficiently solve problems ensures timely support for customers. Whether it's on-site troubleshooting or technical consultations, ZOZEN Boiler always stands by the customers' side, ensuring the production remains uninterrupted.
The SZS series gas steam boilers are the reliable solution for the tomato industry in Xinjiang. By providing stable performance, high-quality steam, and excellent after-sales support, ZOZEN Boiler contributes to the success and growth of the tomato industry in Xinjiang.