Product thermal capacity: 1400 - 14000 KW
Working pressure: 0.8 - 1.0 MPA
Outlet temperature: 320 °C
Available fuel: natural gas, coke oven gas, bio-gas,liquid propane gas, diesel, heavy oil, light oil, crude oil
Available industries: Petroleum, chemical, chemical fiber, pharmaceutical, textile printing and dyeing, building materials, wood processing, vegetable oil processing and other industries
Introduction
YQ(Y)W series gas-fired/oil-fired thermal oil boilers have a three-pass round coil structure. A conical coil is used for the effective protection of the furnace wall at the boiler end. This product is equipped with an advanced combustion device and is fully automated in operation. After the burner ignites the fuel, flame fills the round coil tubes and transfers heat by radiation through the tube wall (first pass). The high temperature flue gas gathers at the back door and then turns to the convection tubes section (second pass), where heat transfer takes place by convection. The flue gas gradually cools down here and flows to the front door, where it is reversed and goes into the third pass. After that, it enters into the chimney through the economizer and is released into the atmosphere.
This type of heater is delivered as a whole, and is installed on site, it only needs to connect thermal gas(oil) piping and electricity to start operation. The heater has four heating areas: furnace radiation heating area, the first convection tube bundle heating area, the second convection tube bundle heating area and economizer (waste heat boiler).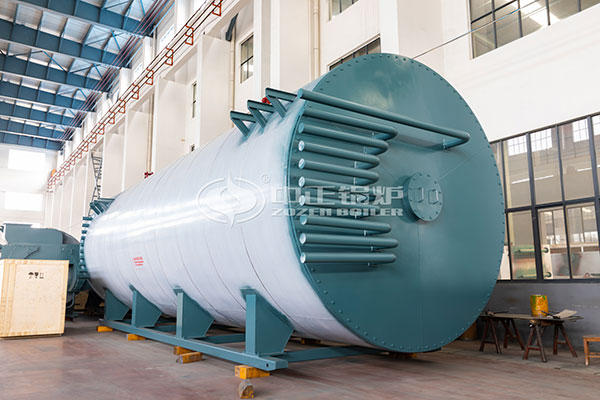 Technical advantages
Digitized manufacture
The laying-off of steel tube adopts CNC 3D laser cutting machine.

The manufacture of round coil tube adopts CNC coil tube automatic production line. Once-forming and no need for plastic .
Full argon arc welding
The tube butt adopts argon arc welding technique and the seams will be done x ray real-time imaging, preventing unqualified seams from entering coil production line .
Easy operation
Heater is wholly assembled before delivery, it is easy for installation, debugging and operating.

Fully automatic operating, burning, liquid level of high level tank, outlet temperature and flow rate are adjusted automatically and self-protected.

The inlet and outlet with end flanges and flanged cover structure facilitate the installation and layout of tubeline in boiler house.
Less fuel consumption
Internal side adopts good insulation material, outside uses stainless steel plate, which can mostly reduce heat lost and make working environment better.

Multilayers closely spaced tube bundle and steel rod is used to seal and fix, completely eradicating short circuit of flue gas.

Before delivery, the residue moisture is removed completely, so the system draining period is reduced to 2 days from 12 days.
Safely operation
The inner coil tube has bigger flow rate, so it is more stable under high temperature operation.

Conical coil effectively protects the furnace wall at the end of heater and burner on the top.