ZOZEN provides hot water boilers for the residential area built by Harbin Investment Group. In the project, the original boiler room was rebuilt, three original 29MW coal-fired hot water boilers and their supporting facilities were dismantled, and four new 29MW gas-fired hot water boilers were built, with a heating area of about 2.3 million m³.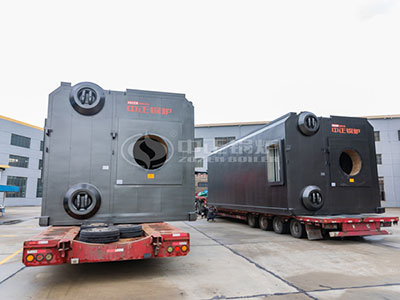 ZOZEN gas-fired hot water boilers were packaged to Harbin
Two heating supply projects in Harbin
Harbin Investment Group is a listed company mainly engaged in cogeneration and financial investment. In recent years, Harbin Investment Group actively responded to the clean heating policy, and the company continued to plan to ban coal-fired boilers with high environmental treatment costs. In this year, the heating project of residential area and the new-built gas-fired boiler project are two important heating projects of Harbin Investment Group.
ZOZEN Boiler won the bids for both projects successively, providing the user with five sets of SZS gas-fired hot water boilers. In fact, in the winter of 2019, ZOZEN had provided the same type of boilers in other projects of Harbin Investment Group.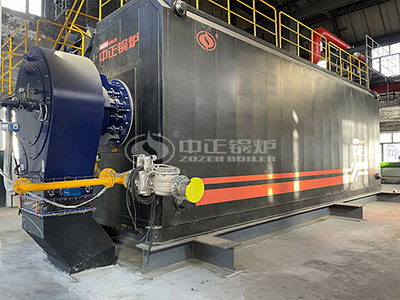 ZOZEN gas-fired hot water boilers in Harbin Investment Group
ZOZEN gas-fired hot water boiler realizes large-scale production
ZOZEN SZS gas-fired hot water boiler is a double-drum, vertical and D-shaped boiler, with a large furnace composed of membrane wall on the right, which provides sufficient space for full combustion of fuel and low-nitrogen combustion. In terms of safety, forced water circulation is adopted in the high temperature area of the boiler body to ensure the reliable cooling of each heating surface and prevent vaporization. At the same time, perfect safety devices are set to ensure the reliability of the system in all directions.
In order to improve the utilization rate of energy, ZOZEN technicians added condensing economizer and air preheater at the tail of boiler flue, and used the waste heat of flue gas to heat the water supply and air, so that the smoke exhaust temperature was as low as 90℃ and the smoke exhaust loss was small. According to the energy efficiency test, the thermal efficiency of ZOZEN SZS gas-fired hot water boiler is over 95%.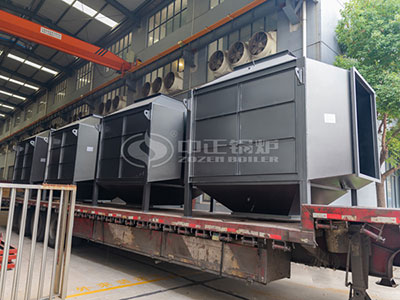 The condensing economizer independently designed and produced by ZOZEN
Automation equipment such as automatic welding production line for circumferential and longitudinal seams, membrane wall production line and automatic pipe bending production line introduced by ZOZEN Boiler has made the main components of the boiler, such as convection tube bundle, membrane wall and drum, professional and large-scale production, and the production cycle of SZS gas-fired hot water boiler has been greatly shortened, thus successfully completing the first batch of orders and deliveries.