In early August, ZOZEN Boiler reached a cooperation with Texhong Textile Group, one of the largest core cotton textile suppliers in the world, and signed an agreement for supplying boiler to the production base in Nicaragua.
ZOZEN Boiler helps Texhong gain momentum for expanding the oversea market
Texhong Textile Group Limited (HK 2678) was founded in 1997. Now it is a leading textile enterprise with focus on manufacturing high value-added core-spun cotton textile products. In order to expand its scale, Texhong has set up large-scale industrial bases in Vietnam, Turkey, Nicaragua and other regions.
Industrial boiler is an important supporting equipment in textile production, which provides thermal energy support for drying, dyeing, shaping and other processes. In order to replace the old boiler equipment in Nicaragua's production base, Texhong purchased a set of 30 ton SZS series gas-fired steam boiler from ZOZEN Boiler.
ZOZEN Boiler has outstanding achievements in the textile industry, and is the boiler supplier for printing and dyeing textile enterprises such as Lenzing Group, Shenzhou International Holdings Limited and Xindadong Textiles.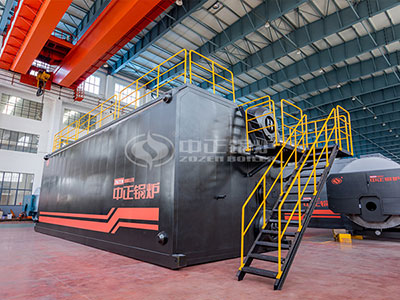 Finished product of ZOZEN SZS gas-fired steam boiler
ZOZEN Boiler becomes a good example of good-quality boiler
With the signing of the contract, the production task of the boiler has been recorded into the company's information system, and the production link has been officially started. The information system realizes the online check of drawing, production tracking and production schedule, which guarantees the delivery in time.
ZOZEN SZS series gas-fired boiler adopts full membrane structure, which has large heating area to effectively absorb the heat. The production of membrane requires a large amount of welding, also it has strict requirement on the airtightness. ZOZEN Boiler owns a complete full-automatic production line for the membrane wall, which forms a flowline production, and the appearance of weld shapes well, thus realizing the large-scale production of membrane.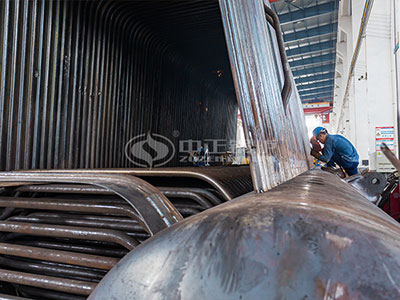 Assembly of membrane parts of SZS gas-fired boiler
In addition, advanced manufacturing equipment such as CNC tube bending machine, CNC boiler drilling machine and automatic boiler drum welding machine are also used in ZOZEN gas-fired boiler, which greatly improves the production efficiency and quality. Thanks to the implementation of lean production, all employees of the company have established quality awarenesses.