Thermal oil heater is necessary for the production line of chemical fiber industry. However, it brings the pressure on production costs and environmental protection while providing the heat energy for enterprises.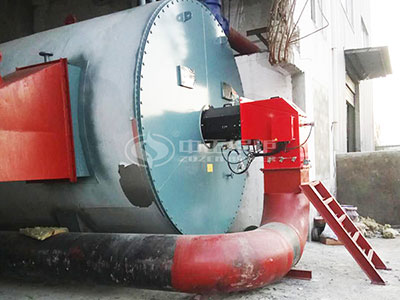 ZOZEN thermal oil heater operated in the chemical fiber plant
ZOZEN gas-fired thermal oil heater becomes popular in the chemical fiber industry
Due to the characteristics of low pressure, high temperature and precise temperature control, thermal oil heaters are frequently used in chemical fiber industry, at the same time, chemical fiber enterprises suffer from high operating costs and great pressure on safety and environmental protection. The target operating temperature of thermal oil heater is generally high, resulting in the exhaust gas temperature reaching over 230 degrees and serious heat loss, which is an important factor for the high operating cost of boiler.
In order to reduce the exhaust gas temperature, the technicians of ZOZEN Boiler have designed various energy-saving devices, such as heat recovery generator and air preheater at the end of the furnace body, which can adapt to the actual working conditions of users in various industries. It has been proved by practical cases that the exhaust gas temperature of ZOZEN energy-saving thermal oil heater system can be controlled below 90℃.
Experienced ZOZEN designers also designed and installed all necessary safety devices such as temperature measurement, pressure measurement and nitrogen charging for furnace body and oil inlet and outlet pipelines.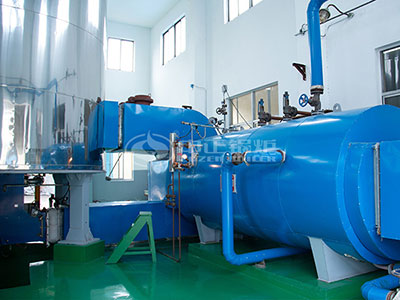 ZOZEN gas-fired thermal oil heater with heat recovery generator
In another project, the customer decided to establish an ultra-low emission energy-saving boiler project, and build a new 75 t/h coal-fired high-temperature and ultra-high pressure circulating fluidized bed boiler, with two sets of 20 t/h natural gas thermal oil heaters as standby heat supply devices, to cooperate with the operation and load balance of fluidized bed boiler.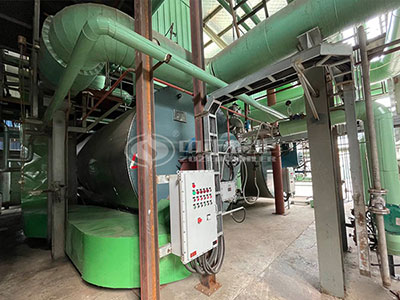 Boiler Room of ZOZEN Gas-fired Thermal Oil Heater
This project adopts the horizontal gas-fired thermal oil heater produced by ZOZEN Boiler. The main body of the boiler is composed of multi-trips round coil tubes, with sufficient heating surface and improved heat transfer effect. At the same time, the advanced automatic welding, coiling, assembling and hydrostatic test production lines of ZOZEN Boiler fully ensure the butt joint quality of pipes in the process of furnace body manufacturing. The assembly accuracy and airtightness among inner ring, middle ring and outer ring completely meet the design requirements, and the steam output is stable.
ZOZEN gas-fired thermal oil heater has effectively improved the green manufacturing level of chemical fiber users, greatly reduces the emission of smoke dust, SO2 and NOx, and achieves good social and economic benefits.