Boiler is an important guarantee for supporting the development of the dairy industry. Recently, ZOZEN Boiler established the automatic steam boiler for a local dairy plant with an annual output of 180 thousand tons.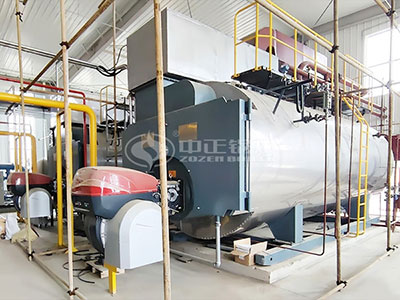 ZOZEN gas-fired boiler of the dairy project is in debugging
ZOZEN Boiler customized high-performance boiler system for the dairy product plant
In 2019, the customer company invested 84 million dollars to build a dairy product plant. The project planed to build a full-automatic intelligent UHT milk and milk powder production workshop, with an estimated annual output of 180000 tons of dairy products. The heat energy required for disinfection, drying and other processes on the dairy production line comes from the support of steam boiler equipment. In order to ensure the quality of dairy products, when customers purchase boilers, they not only pay attention to the boiler performance, but emphasize the project experience of boiler brand in the dairy industry.
Finally, ZOZEN Boiler won the bid of this project. ZOZEN Boiler has cooperated with several leading enterprises in the industry with good relationship. ZOZEN Boiler enjoys the good reputation among the dairy industry.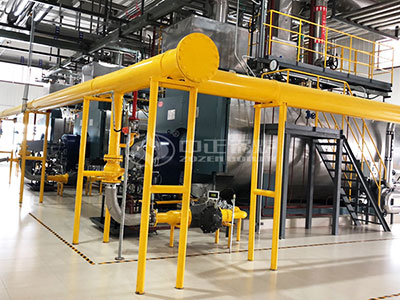 ZOZEN WNS series gas-fired boiler applied in another dairy plant
ZOZEN Boiler supports the dairy industry
ZOZEN Boiler recommended the WNS series condensing gas-fired boiler, targeted for the scale and steam demand of this dairy production project. This series of gas-fired boilers can not only easily achieve low NOx emission, but also have reasonable structural design and can be able to operate in a safe and stable condition, which is one of the best-selling boilers in dairy industry.
The practical application of various projects proves that ZOZEN WNS series condensing gas-fired boilers have high thermal efficiency, which can greatly reduce the operating cost and improve the economic benefits of users. After the sufficient combustion of the natural gas, the generated flue gas is transferred to the condenser and economizer set up at the end of the boiler, to ensure the full use of the waste heat in the flue gas. This step guarantees the thermal efficiency hitting above 98%.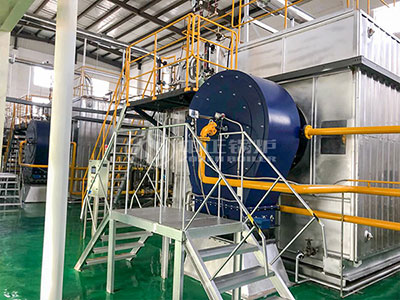 ZOZEN SZS series gas-fired steam boiler in a dairy plant
For large-scale dairy factories, SZS series condensing gas-fired boilers are recommended by ZOZEN Boiler. Compared with WNS series gas-fired boilers, ZOZEN SZS series gas-fired boilers absorb the heat energy in flue gas through the full membrane wall, and can be designed with a larger structure and a wider range of performance parameter. In addition, ZOZEN gas-fired boilers have the advantage of wide range of fuel adaptability, which can realize the sufficient combustion of natural gas and biogas, to help the users lower the fuel cost.