At the end of 2021, Uni-president Holdings, a well-known beverage and instant noodle manufacturer in China, cooperated with ZOZEN Boiler, to upgrade the steam boiler in its production base.
ZOZEN Boiler is favored by Uni-President
Uni-President China Holdings Limited, founded in 1992, is a famous brand of instant noodles and beverages. It has been listed in the Hurun China 500 Most Valuable Private Companies and Hurun China Food Industry Top 100 and Hurun China 500 Most Valuable Private Companies
Uni-President sent a special person to the production base of ZOZEN for on-the-spot inspection, and scored strictly around all aspects of boiler manufacturing. ZOZEN Boiler successfully became the steam boiler supplier of Uni-President.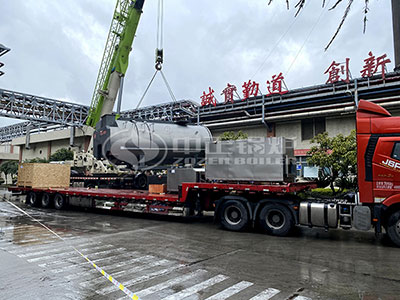 ZOZEN 10 ton gas-fired steam boiler is hoisting
In just five months, ZOZEN Boiler has customized three sets of 10 tph gas steam boilers for Fuzhou, Hefei and Zhengzhou production bases of Uni-President. The Fuzhou production base mainly produces beverage and instant noodle products, with 3 beverage production lines and 4 instant noodle production lines. The high-quality steam is indispensable for the processes, such as the filling and disinfection of beverage and cooking of instant noodle. It is clearly required that the dryness of steam shall be ≥98% and the emission of nitrogen oxides shall be less than 30mg/Nm3.
ZOZEN Boiler designs the overhead air preheater
ZOZEN Boiler found that the original boiler had no flue gas waste heat recovery device, and its thermal efficiency was relatively low. Therefore, the technicians of ZOZEN Boiler designed the overhead air preheater, which not only made full use of the height space of the boiler room, but also used the waste heat of the boiler flue gas to preheat the air, effectively improving the average temperature level in the furnace, strengthening the radiant heat transfer in the furnace, and further improving the thermal efficiency of the whole industrial steam boiler system.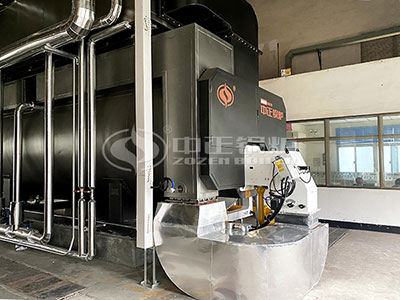 The overhead air preheater of ZOZEN industrial gas boiler
After the boiler was installed and debugged in an orderly manner, ZOZEN successfully passed the strict acceptance procedures of the user and was praised highly by many departments. According to the environmental protection test results of a third-party qualified testing agency, the flue gas emission of ZOZEN's boiler completely meets the standards of particulate matter <5mg/m3, sulfur dioxide <10mg/m3 and nitrogen oxides <30mg/m3.
Also, the gas-fired boiler is equipped with advanced boiler control system, with the control alarm and interlocking devices of water level, steam and pressure, to ensure the safety of boiler operation.