Hydrogen is an ideal clean energy, and only produces water when burned with oxygen, which is green and pollution-free. if hydrogen is use as fuel for industrial boilers, that emission of carbon dioxide will be reduce at source. Recently, ZOZEN Boiler has successfully completed the hydrogen boiler project of Weifang Yaxing Chemical Co., Ltd. The boiler has been successfully ignited and passed the acceptance inspection.
The hydrogen boiler is an energy-saving tool
Established in 2019, Weifang Yaxing New Material is a wholly-owned subsidiary of A-share listed company Yaxing Chemical, mainly engaged in chlorinated polyethylene, caustic soda, hydrogen peroxide, hydrazine hydrate and other products. The company's products are distributed in more than 40 countries and regions.
The company's caustic soda production capacity is 120,000 tons/year, accompanied by a large amount of by-product hydrogen. Considering that hydrogen can be used as industrial boiler fuel, Weifang Yaxing decided to introduce a set of hydrogen fired boiler.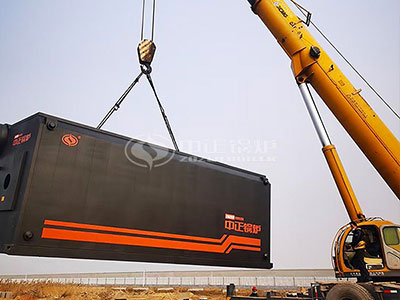 ZOZEN hydrogen boiler adopts packaged delivery
ZOZEN hydrogen boiler passed third party inspection
Considering the instability of hydrogen supply, ZOZEN hydrogen boiler is equipped with a dual-fuel burner burning hydrogen and natural gas. The burner can not only burn one fuel independently, but also realize full-proportion mixed combustion of hydrogen and natural gas, so as to ensure long-term stable operation of the boiler.
The main body of the hydrogen boiler is a chamber fired boiler with double drums, longitudinal type and D-type arrangement, which is arranged with full membrane wall, has good air tightness and reduces heat loss of the boiler body. The energy-saving device is added, it uses the high temperature flue gas to heat the water, which recovers the waste heat and improves the temperature of the feed water. The fuel consumption of boiler water heated to rated steam temperature is reduced.
The safety operation of ZOZEN hydrogen boiler is realized by intelligent control system and interlocking device. The stoker only needs to click "start the boiler" on the program controller, and the boiler can automatically complete the process of furnace purging, valve group leak detection, ignition, etc. In addition to explosion door and flame detector, the boiler is also equipped with alarm interlocking safety measures such as liquid level, exhaust gas temperature, fault, hydrogen pressure, etc.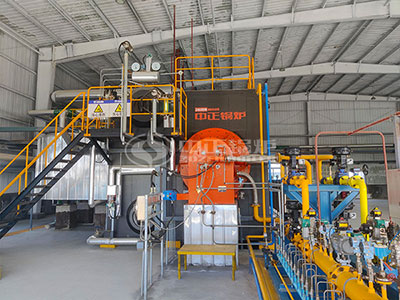 ZOZEN hydrogen boiler is successfully put into operation
ZOZEN hydrogen boiler is a significant energy-saving and environmental protection project of Weifang Yaxing New Material Co., Ltd., which helps the enterprise to realize transformation and upgrading and plays an exemplary role in the green and low-carbon development of caustic soda company.