The so-called skid-mounted boiler is to put all the equipment such as boiler body, economizer, burner, valve instrument, electric control cabinet, water treatment, economizer circulating pump and raw water pressurizing pump on one or two skid blocks to form a industrial oil gas boiler system that can move as a whole.
Not only all the pipes and valves in each skid have been installed, but also the connecting pipe fittings between skid blocks have been pre-installed in the factory, which saves a lot of costs for overseas customers and is especially suitable for many industries such as food, chemical industry, textile, medicine, rubber and building materials.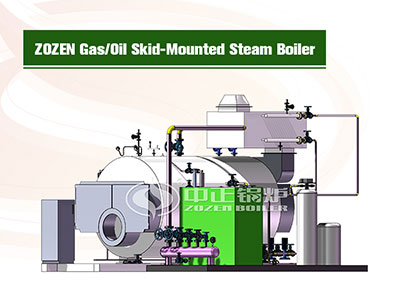 ZOZEN oil and gas skid-mounted boilers sell well overseas
As soon as ZOZEN oil gas fuel skid-mounted steam boiler was launched, it won the favor of Kenyan oil giant KPC and Xindaxin Food Myanmar Factory. Among them, the sales manager of ZOZEN Boiler learned from the contact with the person in charge of Xindaxin Food that the coal-fired steam boiler originally used in Myanmar factory not only occupied a large area, but also had dust collector, flue, induced draft fan, coal yard and slag yard, and the site environment was complicated.
In contrast, the total area of oil gas fired skid-mounted steam boiler is only 1/10 of that of coal-fired boiler house with the same evaporation. Considering the factory environment and environmental protection, Xindaxin Food Myanmar Factory decided to introduce oil gas fired skid-mounted boilers with compact structure and clean and tidy operating environment.
Although the skid-mounted boiler is free from installation steps, the debugging of the boiler can not be ignored. Out of trust in ZOZEN boiler brand, the person in charge of Xindaxin Food chose the solution that technicians complete the boiler system debugging before leaving the factory. At that time, after the skid-mounted boiler arrives at the construction site of Myanmar factory, it only needs to turn on water, electricity and oil, and start it with one button, to realize the automatic operation of the boiler. Compared with technicians going to the site for debugging, this scheme saves customers a sum of money.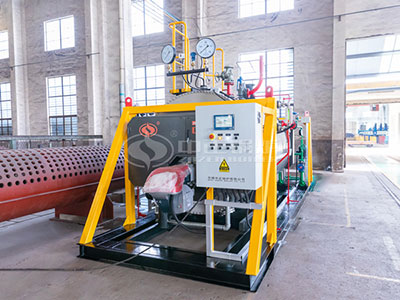 ZOZEN skid-mounted steam boiler in debugging
In terms of safety, the skid-mounted boiler built by ZOZEN is equipped with remote communication function, which can remotely monitor the boiler operation at any time through mobile phones and computer equipment. In terms of service, ZOZEN Boiler will also provide users with regular online return visits, and answer questions remotely anytime and anywhere.