Risesun New Material Vietnam Co., Ltd an enterprise specializing in the production of professional new flooring materials, was established with an investment of $125 million by Kentier. Kentier constructed a flooring factory in Vietnam, primarily producing Kentier Super Flooring, high-density fiberboard, and wooden products.
To meet the production requirements of Risesun New Material Vietnam, ZOZEN Boiler provided two sets of SZL series 10tph coal-fired steam boilers. This series of boilers has been widely used in numerous industrial production lines and provides essential heat energy for heating, plasticizing, and cooling processes in PVC flooring manufacturing.
SZL series coal-fired steam boiler parameters:
Thermal capacity: 6-35 t/h
Working pressure: 1-2.5 MPa
Outlet temperature: 184-350 ℃
Available fuel: Bituminous coal, lean coal, anthracite
Available industries: Heating, chemical, food, tobacco, textile, print and dyeing, feed, medicine, building materials, wine, hospital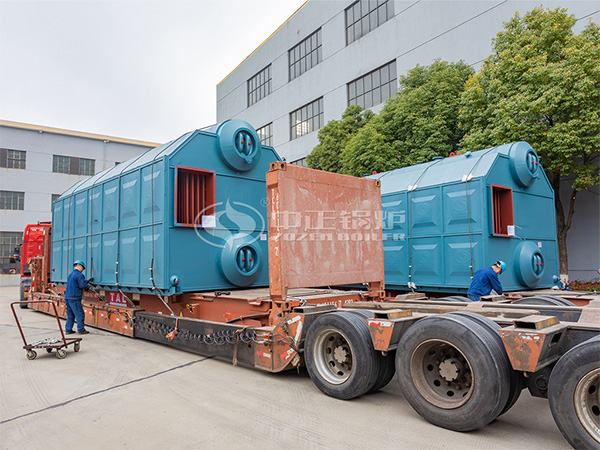 SZL series coal-fired steam boilers
Tailored Solution for Enhanced Efficiency:
The SZL series 10tph coal-fired steam boilers adopt a layered combustion method, combined with a scientifically designed furnace arch, to improve thermal efficiency, reduce fuel consumption, and effectively lower emissions. The independent wind chamber design provides each chamber with independent air regulation capability, ensuring uniform and sufficient combustion, thereby bringing greater flexibility and adjustability to industrial applications.
Equipped with densely arranged water-cooled walls in the furnace, the 10tph coal-fired steam boilers provide a large radiation area, enhancing heat transfer and improving thermal efficiency. With a thermal efficiency of over 81%, these boilers optimize energy utilization and reduce fuel consumption, resulting in significant cost savings for businesses.
Advanced Boiler Control System for Seamless Operation:
ZOZEN understands the importance of streamlined operations. The advanced controls integrated into the SZL series 10tph coal-fired steam boilers automate critical processes such as fuel supply, ash removal, and slag discharge. This automation not only simplifies operation but also reduces the need for manual intervention, enhancing efficiency and minimizing downtime.
Meeting Environmental and Production Standards:
ZOZEN Boiler understands the importance of environmental sustainability and compliance. The SZL series 10tph coal-fired steam boilers are designed to meet stringent emission standards, making them an ideal choice for Risesun New Material Vietnam's production needs. These boilers provide reliable and efficient heat energy, enabling smooth operations and ensuring high-quality flooring production.
Unmatched Technical Expertise and Service:
ZOZEN Boiler's collaboration with Risesun New Material Vietnam once again showcases their comprehensive technical expertise and exceptional service. By providing tailored solutions, ZOZEN Boiler ensures that the 10tph coal-fired steamboilers perfectly meet the specific requirements of the flooring industry, optimizing production processes and enhancing overall efficiency.
ZOZEN Boiler's partnership with Risesun New Material Vietnam exemplifies their commitment to empowering industrial processes with cutting-edge products and exceptional service. The deployment of two sets of SZL series 10tph coal-fired steam boilers demonstrates ZOZEN's ability to deliver customized solutions that meet the unique needs of the flooring industry. Contact ZOZEN Boiler today and unlock new horizons for your industry.