With a reputation for exceptional products and services, ZOZEN Boiler embarked on a journey to revolutionize textile production in Kyrgyzstan. Let's explore how ZOZEN Boiler's two sets of cutting-edge 5tph gas steam boilers are empowering the industry with enhanced performance and reliability.
Understanding the Challenge:
In the bustling textile industry of Kyrgyzstan, one factory faced a pressing and urgent challenge. Their existing boiler frequently operated beyond capacity, resulting in insufficient output to meet the demands of their production lines. Faced with this critical issue, the factory reached out to ZOZEN Boiler, intrigued by their renowned expertise and commitment to delivering effective solutions.
Tailored Solution for Optimal Performance:
Following a comprehensive assessment of the factory's requirements, ZOZEN Boiler recommended the WNS series 5tph gas steam boilers—a game-changer for the textile industry. This high-performance boilers are specifically designed to meet the factory's production demands, ensuring a steady and reliable output that aligns perfectly with their operational needs.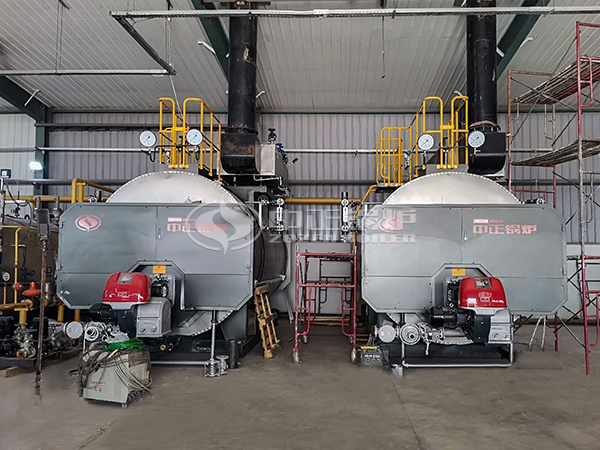 WNS series 5tph gas steam boilers
WNS series gas-fired steam boiler
Thermal capacity: 1-20 t/h
Working pressure: 0.7-2 MPa
Available fuel: Natural gas, coke oven gas, biogas, etc.
Available industries: Heat supplying, chemical, food, textile, printing and dyeing, cigarettes and tobacco, fodder, pharmacy, building materials, brewery, rubber, hospital etc.
Meeting Environmental Standards:
ZOZEN Boiler recognizes the importance of environmental sustainability. To address the factory's concern regarding flue gas temperature, ZOZEN made specific adjustments to the 5tph gas steam boilers, incorporating energy-saving devices and a condenser. These enhancements not only reduce emissions but also improve thermal efficiency, allowing the factory to meet the stringent requirement of a 60-degree flue gas temperature.
Flexibility for Cost Optimization:
To cater to the factory's seasonal variations in production, ZOZEN Boiler proposed a flexible operating strategy. By recommending the purchase of two 5tph gas steam boilers, the factory gains the ability to operate a single unit during the low-demand season, effectively reducing operational costs while maintaining optimum production capacity. ZOZEN Boiler's approach showcases their commitment to assisting businesses in maximizing efficiency and cost-effectiveness.
Unmatched Support and Service:
ZOZEN Boiler's dedication extends beyond delivering exceptional products. Their team of experts works closely with the factory, providing comprehensive support throughout the entire process—from initial consultation to post-installation assistance. This personalized approach ensures that the factory receives tailored solutions that perfectly align with their unique requirements, empowering them to overcome challenges and achieve optimal production levels.
ZOZEN Boiler's partnership with the textile factory in Kyrgyzstan exemplifies their commitment to revolutionizing industrial processes. Through the implementation of the WNS series 5tph gas steam boilers, coupled with energy-saving enhancements, ZOZEN enables the factory to achieve enhanced operational performance, reliability, and compliance with environmental standards. With ZOZEN Boiler as their trusted partner, the textile industry in Kyrgyzstan can look forward to increased productivity, reduced costs, and a sustainable future. Experience the transformative power of ZOZEN Boiler today and unlock new horizons for your industry.