Discover the success story behind Pakistan's renowned Matco Foods and their choice of ZOZEN Boiler as their supplier of coal-fired steam boilers. With a rich history of nearly 60 years in the rice food industry, Matco Foods has established itself as a prominent exporter of Basmati rice. Find out how ZOZEN Boiler's SZL series coal-fired steam boiler has played a vital role in ensuring the high-quality production of the beloved Basmati rice.

ZOZEN Boiler's exceptional performance and quality service were the primary factors that led Matco Foods to select them as their steam boiler supplier. The utilization of chain grate combustion technology and meticulous attention to all-round details have profoundly influenced the entire production process of Basmati rice, ensuring stable production and export of their premium rice products.
ZOZEN coal-fired chain grate boilers mainly produce hot water, saturated steam or superheated steam for industrial use. Coal-fired boilers have lower operating costs–nearly 50% lower than boilers using oil or natural gas. Coupled with the proven high-efficiency, low-emission clean coal technology, the coal-fired boilers have the advantages of sufficient output, high thermal efficiency and wide coal adaptability without compromising safety and reliability.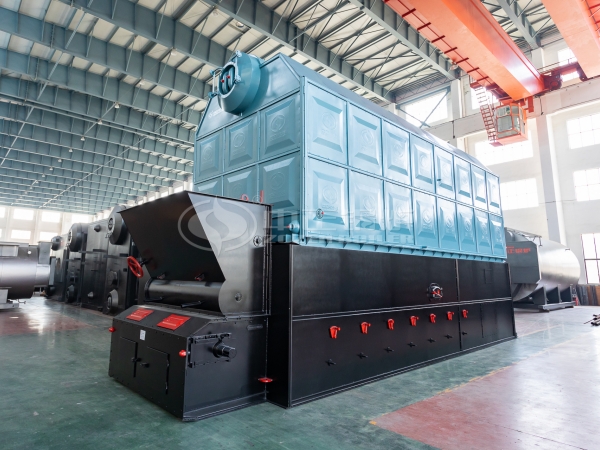 SZL series coal-fired steam boiler
Thermal capacity: 6-35 t/h
Working pressure: 1-2.5 MPa
Outlet temperature: 184-350 ℃
Available fuel: Bituminous coal, lean coal, anthracite
Available industries: Heating, chemical, food, tobacco, textile, print and dyeing, feed, medicine, building materials, wine, hospital
ZOZEN Boiler's SZL series coal-fired steam boilers feature a chain grate and independent air bin, guaranteeing thorough fuel combustion. This design ensures that the fuel is evenly distributed and fully burned, maximizing energy efficiency and minimizing waste.
The SZL series boilers boast a thermal efficiency of over 81%. This impressive efficiency is achieved through the implementation of densely arranged water-cooled walls in the furnace, which provide a large radiation area. This design maximizes heat transfer and enhances the overall thermal performance of the boiler.
The production process of Basmati rice heavily relies on consistent temperature and pressure during cooking and drying. In this aspect, ZOZEN Boiler's SZL series coal-fired steam boiler demonstrates remarkable operational efficiency. The unique design features such as the spring-loaded full-open safety valve create a stable combustion environment, balancing system pressure and maintaining a constant temperature, thereby enhancing overall operational efficiency.
ZOZEN Boiler's SZL series coal-fired steam boilers are equipped with advanced controls that automate essential processes such as fuel supply, ash removal, and slag discharge. This simplifies the operation of the boiler, reducing the need for manual intervention and ensuring smooth and efficient production in the rice production line.
With ZOZEN Boiler's SZL series coal-fired steam boiler, Matco Foods has been able to uphold their commitment to delivering high-quality Basmati rice. The boilers' reliable performance, efficient operation, and meticulous services have significantly contributed to Matco Foods' success as a leading player in the rice industry. Choose ZOZEN Boiler's SZL series coal-fired steam boiler for enhanced rice production and take your brand's reputation to new heights.