The fuel consumption of industrial boilers can be affected by several factors, including the design and efficiency of the boiler itself, the type and quality of fuel used, the load placed on the boiler, the operating conditions, maintenance and upkeep, and environmental regulations. A well-designed and efficiently operating boiler, using high-quality fuel, maintained properly, and operating at partial capacity can help optimize its performance and reduce fuel consumption. Compliance with environmental regulations may also require the use of certain fuels or the installation of emissions control equipment, both of which can impact fuel consumption.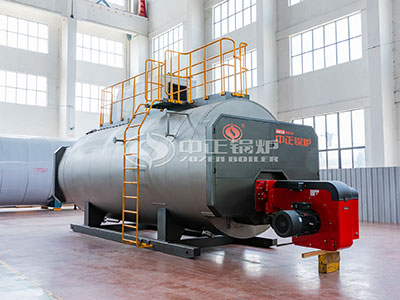 ZOZEN industrial oil gas fired boiler
The 1 ton boiler produced by ZOZEN is a WNS series industrial oil gas fired boiler. The fuels that can be used include Natural gas, coke oven gas, biogas, methanol, liquid propane gas, diesel, heavy oil, light oil, crude oil, etc., the characteristics of different fuels will directly affect the boiler fuel consumption.
Parameter

WNS1-0.7-QY

WNS1-1.0-QY

Fuel type
Gas, Oil
Rated evaporation capacity
1 ton/hr
Working pressure
0.7 MPa
1.0 MPa
Rated steam temperature
170 °C
184 °C
Thermal efficiency
≥ 98%
Fuel consumption
Gas: 72 Nm³/h, Oil: 66 kg/h
The ZOZEN oil gas boiler is designed to be fuel-efficient and has several features that help to save fuel and increase efficiency. Its high thermal efficiency, intelligent control system, advanced combustion technology, and high-quality components all contribute to its ability to save fuel and reduce energy costs. The threaded smoke pipe used in the furnace of the WNS series 1-ton boiler effectively increases the residence time of the flue gas, improves the heat transfer coefficient, strengthens the heat transfer, and effectively saves fuel consumption.
If you are interested in learning more about the ZOZEN 1 ton oil gas boiler and its fuel-saving capabilities, there are several ways to get more information, such as online chat, email, whatsapp, wechat. ZOZEN's sales engineer will provide you with a quote for the boiler and installation.