On November, the boiler project between ZOZEN Boiler and MMC IMPEX CHEMICAL (hereinafter referred to as MMC) was successfully ignited and operated. MMC is a daily chemical soap factory in Pakistan. In the production and processing of soap, saponification reaction needs a lot of steam, and the quality of steam determines the product quality. Therefore, MMC company purchased an efficient boiler from ZOZEN Boiler.
ZOZEN Boiler served the soap factory in Pakistan
ZOZEN Boiler owns a professional international trade team, which can provide all-round high-quality boiler services for enterprises at home and abroad. ZOZEN not only has the ability to contract the whole process of boiler design, production, transportation, installation and delivery, but also provides after-sales services such as return visit and maintenance. In order to provide technical advice and installation guidance to Pakistani users in time, ZOZEN has established a service center in local, which is provided by the professional agent.
According to the actual heat demand of MMC, ZOZEN has tailored a set of SZL series coal fired steam boiler system solutions for MMC. Recently, under the guidance of ZOZEN, the coal-fired boiler was successfully ignited, which marked that the boiler officially entered the oven commissioning stage.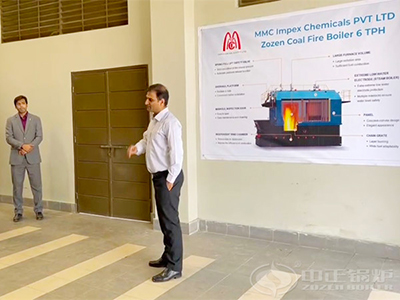 The ignition of the boiler in MMC plant
Strong enterprise strengthen guarantees the boiler quality
ZOZEN Boiler has an advanced CNC automatic production, which ensures the high machining accuracy of components. At present, the numerical control rate of blanking has reached over 80%, and advanced numerical control processing technology has been adopted in key manufacturing links such as steel plate blanking, coiling and tube sheet drilling, which can reduce assembly stress and prolong the service life of the boiler.
ZOZEN has also established strict acceptance procedures for boilers, as well as full coverage and standardized quality inspection and process inspection systems. From raw materials entering the factory to products leaving the factory, there are hundreds of manufacturing processes, ZOZEN tries its best to control and inspect each link.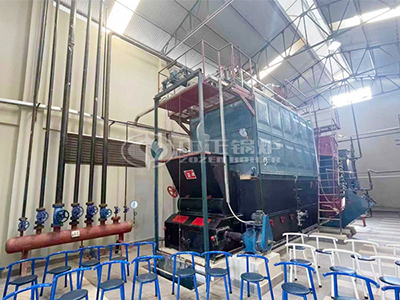 The coal-fired steam boiler on site
ZOZEN SZL series water tube steam boiler is adopted in this project. The boiler is designed with reasonable air distributor, which can distribute the air according to different combustion situations, to ensure the sufficient burning of fuel, and the thermal efficiency of the boiler can reach over 82%. At the same time, the boiler fuel supply, ash discharging and slag discharging operations are all mechanized, which can greatly reduce the labor cost and improve the operation performance.