The dairy giant Yili Group has established a production base of natural spring water. At present, the project has been completed and is expected to be put into production this year.
ZOZEN Boiler provides steam boiler for Yili Group
The total investment of the project is about 116 million dollars, with 6 advanced production lines, the project has the annual output of 1 million tons of natural spring water. ZOZEN gas-fired steam boiler mainly provides sufficient steam for sterilization, aseptic canning and other links in the production line.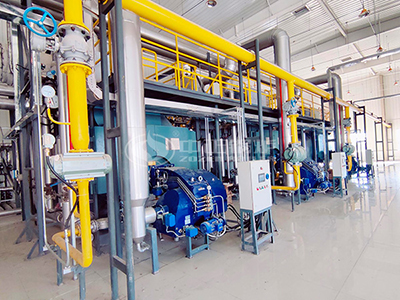 ZOZEN gas-fired boiler room in the project
In fact, ZOZEN Boiler has cooperated with Yili Group for several times. ZOZEN Boiler provided several sets of gas-fired boilers for different production lines in different production bases for Yili Group. ZOZEN Boiler was highly praised by Yili Group for its professional service and the good experience of the products during the long-term cooperation.
ZOZEN WNS series gas-fired steam boiler provides steam support for the project
The project adopts the WNS series gas steam boiler with the dual-fuel burner, it accommodates to the gas and oil fuel. According to the load condition of the boiler, the fuel gas quantity and blower air volume are automatically adjusted to obtain the best air-fuel ratio and to improve the boiler efficiency.
The boiler consists of corrugated furnace, threaded smoke tube, economizer, burner, insulated and stainless-steel cladding and other key components. The economizer absorbs the waste heat of the boiler flue gas to raise the inlet water temperature and to reduce the exhaust gas temperature, which improves the thermal efficiency of the boiler.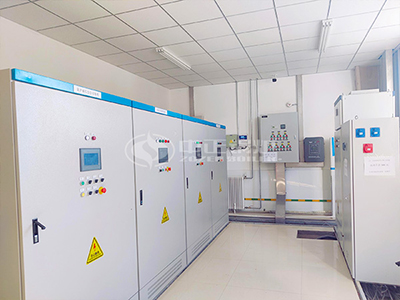 The control room of ZOZEN gas-fired boiler
In addition, ZOZEN gas-fired boiler is equipped with advanced PLC control system. The boiler start-stop, load regulation and automatic water supply can be easily set to ensure the safe and reliable operation of the boiler.